Campral (Acamprol)
Acamprosate Calcium Generic Alternative at Low Cost
---
| | |
| --- | --- |
| Active substance: | Acamprosate |
| U.S. Brand: | Campral |
| Indian Brand: | Acamprol |
| Mfd by: | |
| Strength: | 333mg |
| Form release: | 6 tablets blister |
| Shipping time: | 7 – 21 days |
| Best price: | 0.35 USD |
| Order: | through request form |
---
---
DescriptionHow to take?Common Side EffectsLatest New'sPhoto's
Acamprosate 333 mg Gastro-resistant Tablets, manufactured by SunPharma, sold under brand name Acamprol, each gastro-resistant tablet contains acamprosate calcium 333.0 mg as the active ingredient. Acamprosate is indicated as therapy to maintain abstinence in alcohol-dependent patients. It should be combined with counselling.
Acamprosate is thought to stabilize the chemical balance in the brain that would otherwise be disrupted by alcoholism, possibly by blocking glutaminergic N-methyl-D-aspartate receptors, while gamma-aminobutyric acid type A receptors are activated. Reports indicate that acamprosate only works with a combination of attending support groups and abstinence from alcohol.
Acamprosate calcium is a synthetic compound with a chemical structure similar to that of the endogenous amino acid homotaurine, which is a structural analogue of the amino acid neurotransmitter γ-aminobutyric acid and the amino acid neuromodulator taurine. Its chemical name is calcium acetylaminopropane sulfonate. Its chemical formula is C H N O S Ca and molecular weight is 400.48. Its structural formula is: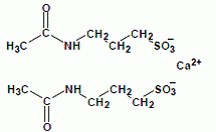 Adults within the age range 18-65 years
– 2 tablets three times daily with meals (2 tablets in the morning, noon and night) in subjects weighing 60kg or more.
– In subjects weighing less than 60kg, 4 tablets divided into three daily doses with meals (2 tablets in the morning, 1 at noon and 1 at night).
The recommended treatment period is one year. Treatment with acamprosate should be initiated as soon as possible after the withdrawal period and should be maintained if the patient relapses.
Acamprosate does not prevent the harmful effects of continuous alcohol abuse. Continued alcohol abuse negates the therapeutic benefit; therefore acamprosate treatment should only be initiated after weaning therapy, once the patient is abstinent from alcohol.
Store at 25°C (77°F); excursions permitted to 15° to 30°C (59° to 86°F).
Certain serious side effects include allergic reactions, irregular heartbeats, and low or high blood pressure, while less serious side effects include headaches, insomnia, and impotence. Acamprosate should not be taken by people with kidney problems or allergies to the drug.